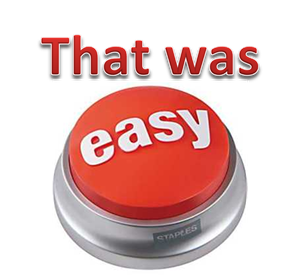 I'm generally pretty laid back, but when I let things build up, it can get a little ugly. That's where this story starts, let me tell you about my week…
It all started on Monday when I ran into a past client in the grocery store. She was so excited to see me and tell me that she'd gotten her real estate license and was now "working" for (a not to be named, but obviously not C21) real estate company. I told  her I was happy for her and that I had no idea she was interested in the business and she said… "When you  helped us buy our home it was so easy I knew immediately that I wanted to switch to something easier." I'm not upset with her getting in the business, not one bit. I wished her the best, in fact I told her we should have lunch sometime and if she ever needed anything to call me.
Tuesday I was driving between appointments and saw a For Sale By Owner (FSBO) sign in a past clients yard. Like any good Realtor, I called them immediately and asked them if I could help… "Oh no, we're good. You know when you sold our last house all you did was put a sign in the ground & it sold,  so we thought that was easy! we can do that and save all that money."
At 8:30pm last night, I finally took a little time to catch up on some reading, clean out the "extras" in my email, etc and found this lovely little article on Inman News (a leading real estate news source for Realtors)… Why a real estate license empowers women & could change your life.  Should be a great, uplifting article right? WRONG!!! It promotes women having their real estate license in case they get divorced. That you should have your real estate license even if you only do one deal a year. Let me do the math… if you do 3 deals in 3 years then subtract license fees, e&o insurance, office splits, MLS dues, continuing ed classes, lockboxes, signs… well you'd be in the hole, big time and I didn't even go into business cards, gas, advertising, etc.
Topping it all off was a call this morning at 7:32am. Nice lady called, asked some questions about a house I have listed and said it might be something her son would be interested in. She asked if we'd had any offers, any showings… I said there is a showing scheduled for tomorrow but no offers yet. I asked if her son was pre-approved for financing? "No, not yet, but he just got a great job." Ok, has he looked at other properties? Is he looking at any other towns? "No, he hasn't looked at anything yet, he's very busy. I want to make it easy for him."  The she asked if I could show her (not the son, his time is very important) 19 other properties (not interested in my listing since someone else is looking at it) this Saturday. I stuttered a little, I started to explain the need for financing pre-approval and that we should narrow down the list a little… she screamed "You're not making this easy. I will find a Realtor that values his time." and hung up on me.
So now I'm in a mood, need to go for a walk and have a glass of wine and try not unleash on the next unsuspecting person I run across. I'm having Dr Jekyll / Mr Hyde type conversations with myself. I go to great lengths to make my clients transactions go smoothly and without stress… maybe I should just let some of these deals blow up! No, that's not a good idea. Maybe I should email/text them every single time I do any single thing on their transaction so they know I'm doing something… no, again not a good idea, I'd need a full time person just to send out those text/emails. Maybe I should call & email my past clients more frequently… no, I think that might qualify as stalking. Maybe I should have agreed to show 19 homes to the mom of an unqualified buyer on my Saturday… no, probably not the best use of my time.
So here I sit repeating… "I love my job, it's easy. I love my job, it's easy. I love my job, it's easy…" in my best mocking, snotty, rebellious 15 year old, valley girl voice and writing a blog post to vent about it! Because in the end, I do love my job. No it's not easy but I still love it. I'll work tonight and I'll get up tomorrow and I'll keep doing my best because I do love my job.. most of it. Like 98% of it…
On the bright side… I'm doing an awesome job of making this gig look easy!